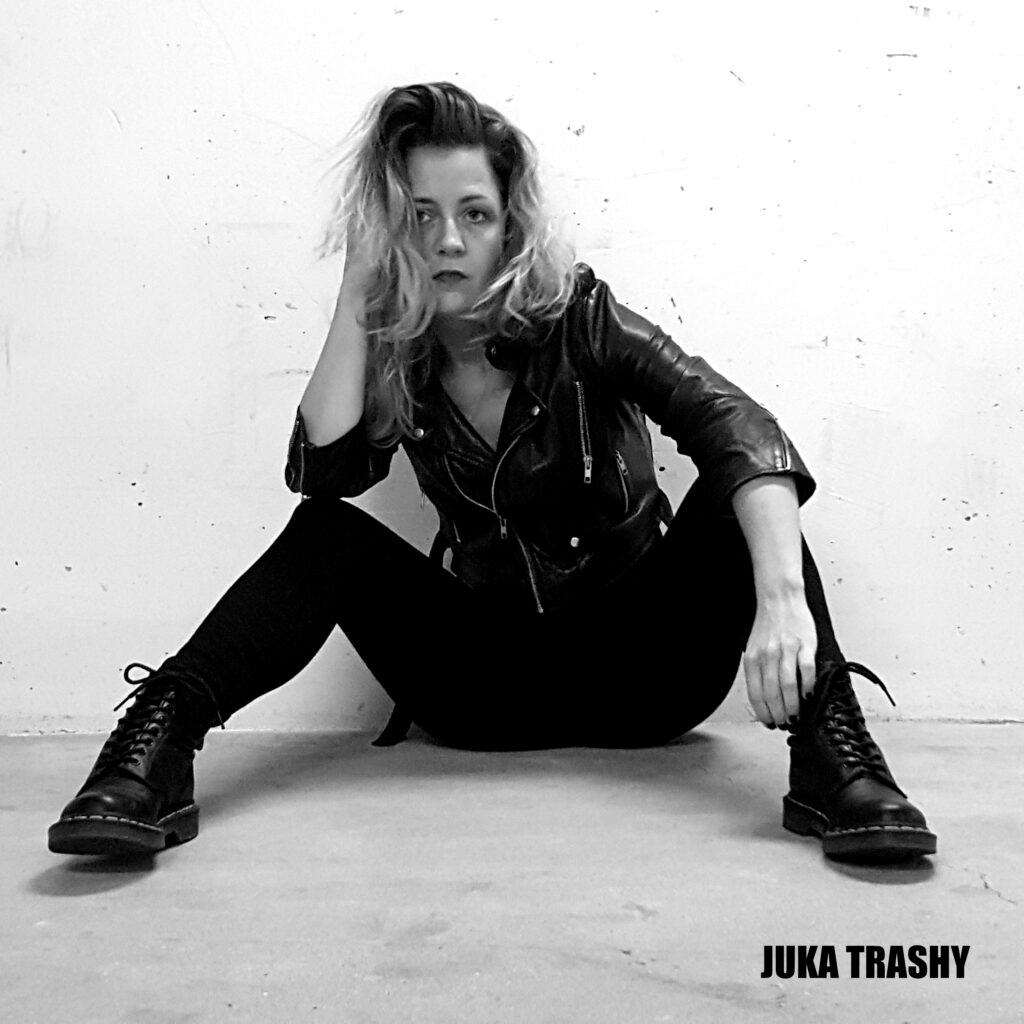 Juka Trashy is a Danish musician known for her lo-fi rock music with a touch of surf. Her style features deep and dark vocals with sensual undertones and a cinematic sound. She has been active on the Danish underground and punk scene since 2012 and has appeared as a guest performer with bands such as Hank Robot's Headless Chickens (Kim Kix, Powersolo), Lene Lovich and bassist Greta Brinkmann (Blondie).
Subscribe here https://jukatrashy.bandcamp.com/subscribe and get all the new music I release, plus bonus items from my back-catalog, and short stories.
---
Juka Trashy has released several singles and albums, including the album Auto Fiction and the singles "Post Drunk Depression", "I aint no Lollipop" and "He's the Little Match Girl". She has received support from Koda Kultur for some of her singles, including "Have a Brunch" and "Stolen Moments".

Besides her releases, Juka Trashy has appeared in various media, such as interviews on TV SMIL, Lokal TV Aarhus, and American Truly Fearless Life. She has been featured in print and online and online publications such as Aarhus Onsdag, The Royal Danish Library's music service, and Italian TRAKS.

Juka Trashy also has other projects such as Lady Petit on the split EP 34m2 of Fun, which was released digitally in 2020. In 2016 she released the avant-garde acoustic LP/CD/digital album Avantgarde Pop Acoustic with Qu'est-ce Que Fück? and in 2015 she released the music video "Tempelhof" with Bauteil3 .

Juka Trashy has performed at various concerts in countries such as Germany, Italy and the USA. Her music has been played on radio programs such as Mädchen Radio Rock'n'roll (Berlin), Hey You Kids Get Off My Lawn (NY) and Vesterbro Rockradio. If you are a music fan looking for unique and compelling sounds, Juka Trashy's work is worth checking out.
Photo: Juka Trashy by Louise Elisabeth Andersen