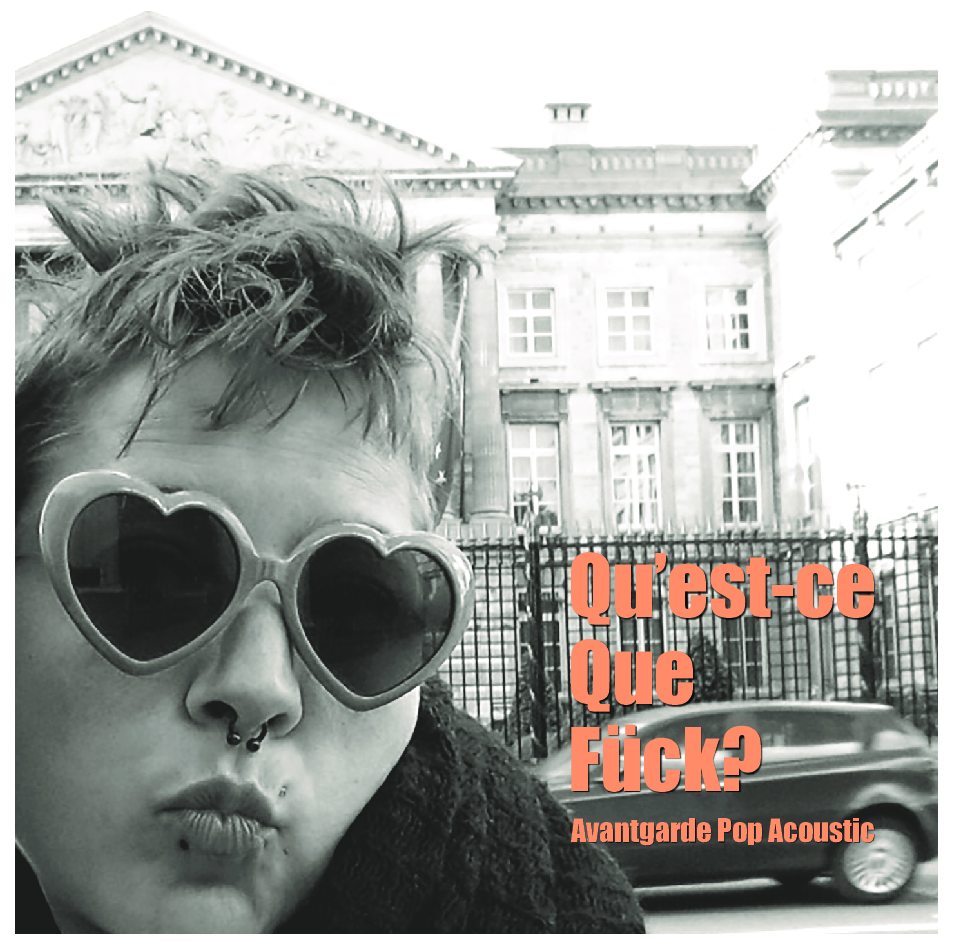 Interview with the band. Translated from the Royval Danish Libraries' music service. Original: https://bibzoom.dk/musikartikler/unsigned-pr%C3%A6senterer-qu%E2%80%99est-ce-que-f%C3%BCck
Unsigned Presents: Qu'est-ce Que Fück?
11-02-16
By: Niels Mark
Buy digital, vinyl, or CD on Bandcamp and support directly https://jukatrashy.bandcamp.com/album/avantgarde-pop-acoustic
Or stream on Spotify, iTunes and more
The female duo Qu'est-ce Que Fück? is ready with their debut album "Avantgarde Pop Acoustic", which will be released on Saturday, February 13, 2016. The duo has gone all the way and will be released on vinyl, CD and streaming services.
Qu'est-ce Que Fück? describes the album as a time document that follows the band on tour, in the rehearsal room and at a few bedroom sessions between 2011 and 2014. Previously, the band has released the demos Dadaist Dreamers in 2012 and QQF Kasette in 2013. Qu'est-ce Que Fück? invites the audience into a universe of love and darkness.
A pathos-filled front vocal is combined with spherical choral passages and strong guitar playing. The result is a powerful yet sensitive soundscape that reflects on everyday struggles, Dadaism, oppression and dreams of love.
Six questions for Qu'est-ce Que Fück?
How did you get the idea to start the band?
The band came about on a road trip to Germany. We both played in other bands, so it was natural for us to bring guitars, ukulele, melodica and percussion instruments in the car, and then we sat out in a forest near Hamburg and jammed – even though our audience consisted mainly of German ducks, we thought it was such a success that we continued to explore the universe that seemed to be taking shape.
What is the best thing about your music?
The fact that we have never played the same concert exactly the same twice.
It has been important for us to change the stage show and sound from concert to concert, so that a concert with Qu'est-ce Que Fück? has always been a unique experience for our audience. After a show, we have always thought about how we could challenge ourselves and the audience next time. If we have gone lofi and played an acoustic concert, we have changed all the songs to be played on synthesizer and electric bass for the next show.
We have tried to vary our sound and play with the expression by using different instruments; among the favorites are instruments such as ukulele, melodica, harmonica, foot bells, flute, a so-called ghost tube sound machine.
Common to all our shows has been melancholy, love and madness.
What has inspired your style?
We have tried to combine the traditional singer-songwriter approach to composition with the energy of punk, Parisian street musicians, a lot of instrumental experiments and crazy ideas combined with our lives – the absurdities of everyday life, both good and bad.
What is your best experience with the band?
Touring in France and Germany was great, and playing a warm-up for Jude Rawlins and Kirsten Morrisson (both Lene Lovich, ed.) in a disused public toilet in Berlin was a really big deal for us. Finally, our collaboration with Hank Robot (Kim Kix, ed.), for whom we have warmed up and acted as juhupigers – under the name "Hank Robot's Headless Chickens" – both here in Denmark and in Paris has meant a lot, both musically and humanly.
What's next for you in 2016?
Right now, the first priority is to get the record out there and tell the world that we believe this is an album and a story that makes a difference. Push a little bit of conformity, ironic distance and emotional intimidation.
Do you have a favorite record?
More than we can count!